From Worriers to Warriors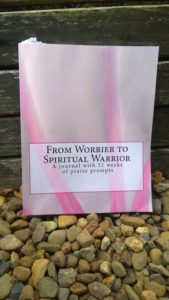 This is a journal for creatives, those who love art, and exploring the bible in new ways.
This journal has 52 weeks of praise prompts around the characteristics of God, as shown in the Bible.
Each characteristic/prompt has at least two central scriptures for you to explore, with two pages allocated for you to write, draw, paint, and creatively explore how these scriptures are speaking to you.
Easy to use as an individual or group.Ideal for the S.O.A.P. method or for meditation and memorisation.
This beautiful journal is perfect for recording your precious meditations, drawings, verses, thoughts and writings on who God is.
Your Bible study will never be the same again.